Testimonial Pam Paiting (51) HR Manager
My journey with Dave Hughes – PT started in October 2019, mainly for health reasons, my Blood Pressure was high, I was out of breath walking, and my size put restrictions on my ability to do every day simple things, like bending over and tying my shoe laces. It was time to change all this!!

An awful lot has changed since starting the journey; I am now 4 stone lighter which is visibly obvious, everyone notices, and the compliments I get are a motivator to keep going. The less obvious to others is my health and fitness levels. My BP is normal again, the stress on my body of all the extra weight is significantly reduced, and my fitness levels and range of motion have increased beyond my expectations. Exercises that I physically couldn't do are now my daily routine, and I actually ran 10K without stopping last week. Which is amazing as I could not jog for 30 seconds when I started?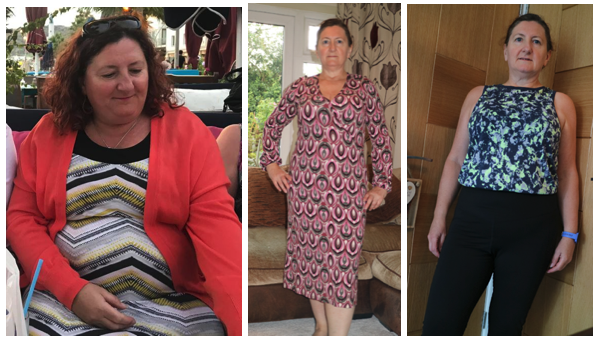 So to sum it up, I look different, I feel different, and I work out differently, and more importantly I want to work out!!!!!….. I am constantly looking at and thinking about how to improve my performance, and planning how I achieve this with Dave and Fit Camp UK. I had to throw 3 black bin bags of clothes out this week because of my old wardrobe no longer fits!!
Dave has provided the mentoring, motivation and enthusiasm (as well as some very early morning starts to fit in with my work schedule…), which has been the driver to get me to each goal as we have set it, he has encouraged me to persevere and constantly pushed and challenged my ability, both physically and mentally, and made me understand that I am accountable for my actions. He has listened and never judged, and makes each session something to look forward to.

I whole heartedly recommend Dave Hughes PT and his Fit Camp UK Company.
Dave will put you at ease and help you to achieve in a friendly, encouraging and fun manner, his private studio provides a quiet, discrete space where there are no distractions or onlookers that you get in gym scenarios (especially if you're body conscious as I was in the beginning), allowing you to focus on you. I wouldn't have got this far without him!!
---
Testimonial Emily Charlotte Clark Fit Camp UK Personal Training
Hi my name is Emily,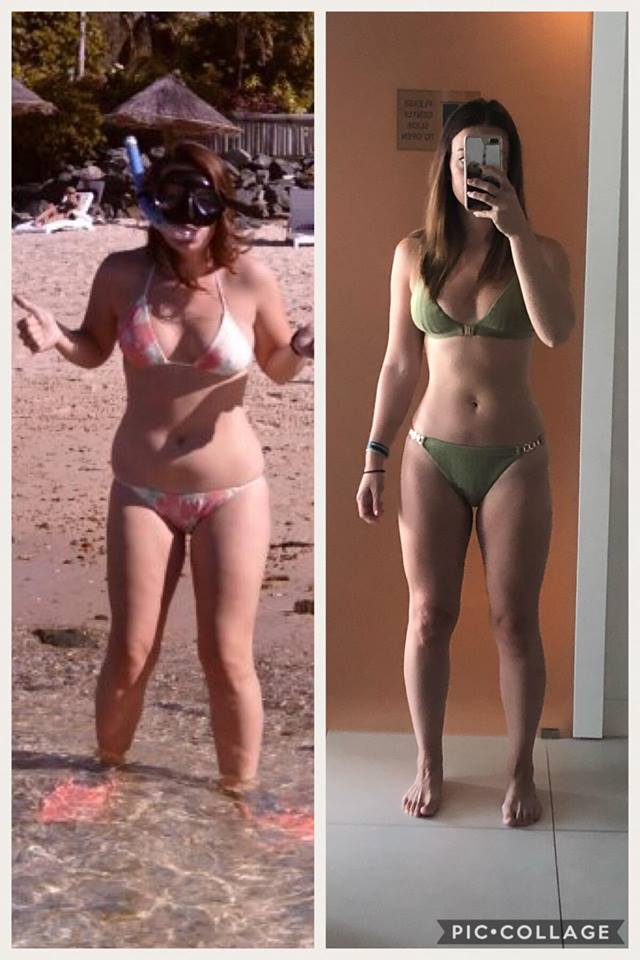 Having always been a lover of exercise but also one of cake. I've never been content with my weight and body shape!! Personal Training with Dave and Fit Camp UK, I have been taught what and when to eat.
This has been the key to success for me. Also drinking lots of water!! I attend Fit Camp UK as well as do 1-1 training with Dave Hughes. I enjoy joining in the wolf runs, charity runs and anything else going now that I feel capable and absolutely love it and meet great people along the way.
In 12 months of training with Dave I have 16 pounds of Fat & Increased Lean Muscle by 4.4 pounds, Reduced 10% body fat from 31.2% to 21.2% Reduced 5 inches off my waist, 5 inches off my hips, 4 inches off each thigh and 3.5 inches off each arm. Not only do I finally feel more confident in my appearance I also have endless energy.
The training has done wonders for my mental health too. For the first few months I wasn't seeing results because I still wasn't eating right or training enough. After a bit (a lot) of telling off I listened to what Dave was coaching me, implemented it and quickly started to see results.
I can't recommend Dave enough, thank you!!
Emily Charlotte Clark Fit Camp UK – Tamworth
---
Testimonial - Jade Wigley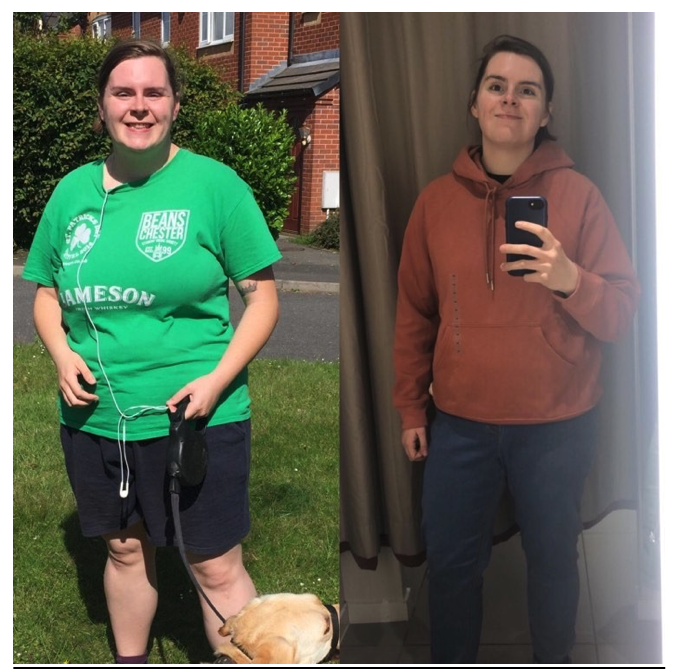 Before I began my journey with Fit Camp UK, I was massively unhappy with my body. My diet consisted of a lot of Coca Cola, croissants, crisps, chocolate, pizza and bread, in large quantities. I did no exercise and found myself stuck where I was. I couldn't figure a way out of my situation, until I was introduced to Dave and Fit Camp UK. My first session was extremely difficult both physically and emotionally. I felt I couldn't do it, but thanks to the support from Fit Camp and my own motivation I kept showing up for training. I completely changed my diet and cut my calories down. Now, approximately 5 months since starting this journey, I have lost over 3 stone, I feel more confident in myself, and I'm using my body more and exercising regularly. I can't believe the changes, not only physically but also mentally that I've had. My mind-set is so different to what it was and I couldn't have done it without the constant support of Dave. I feel the best I've ever felt.
---
Donna Spragg 52 years old Customer Service Team Leader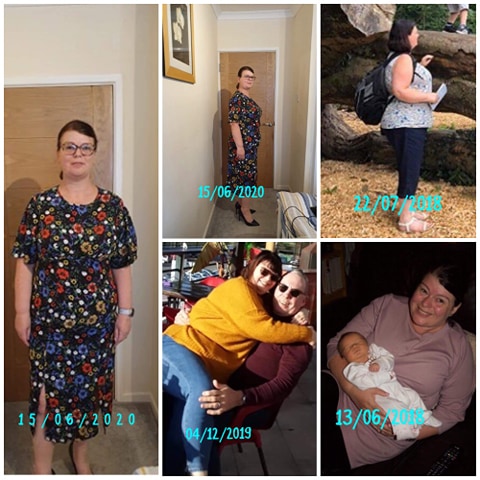 I joined as I did not feel like myself anymore I did not like what I saw in the mirror.
I wanted to be fit and healthy and live longer Been a client since mid Feb 2020 Results lost over 2 stone working towards 3 20.5 cm lost off waist Fitness levels increased Join do it you will be surprised by the Dave is my biggest motivation he makes me believe that I can do it so I want to do it the sessions are varied no 2 sessions are tge same he sets me goals that are achievable good community spirit with all his clients plus yiu get the tools to support you
I joined Dave Hughes and Fit Camp UK – Body Transformation Program.
I did not feel like myself anymore I did not like what I saw in the mirror.
I was struggling with my grandchildren to walk with them or even look after them as I was getting out of breath just walking up the stairs.
I wanted to be fit and healthy and live longer.
I have been a client since mid Feb 2020 Results lost over 2.5 stone in 3.5 months working towards 4 stone loss.
I have lost 20.5 cm lost off waist – which is over 8 inches aswell as 8 inches off my hips
Fitness levels increased and now enjoy going running 3 times a week as well as the Fit Camp UK Program with Dave
If you have any doubts? Then don't as you will not regret it
You will be surprised as Dave is my biggest motivation he makes me believe that I can do it
I was also addicted to diet coke – which I drank 3 litres every day as well as drinking alcohol and fast food.
Dave has showed me how we can still have the things we like in moderation and still get amazing results
He sets me Weekly achievable goals and targets.
The training sessions are always varied no 2 sessions are the same.
Dave has set up a private community between us all and there is great support & banter to keep us going
So if you are sitting on the fence about joining – then don't as Dave offers a money back guarantee if you do not see results in the 1st 12 weeks
---
Testmonial Tiffany Thatcher - Tamworth Fit Camp UK Member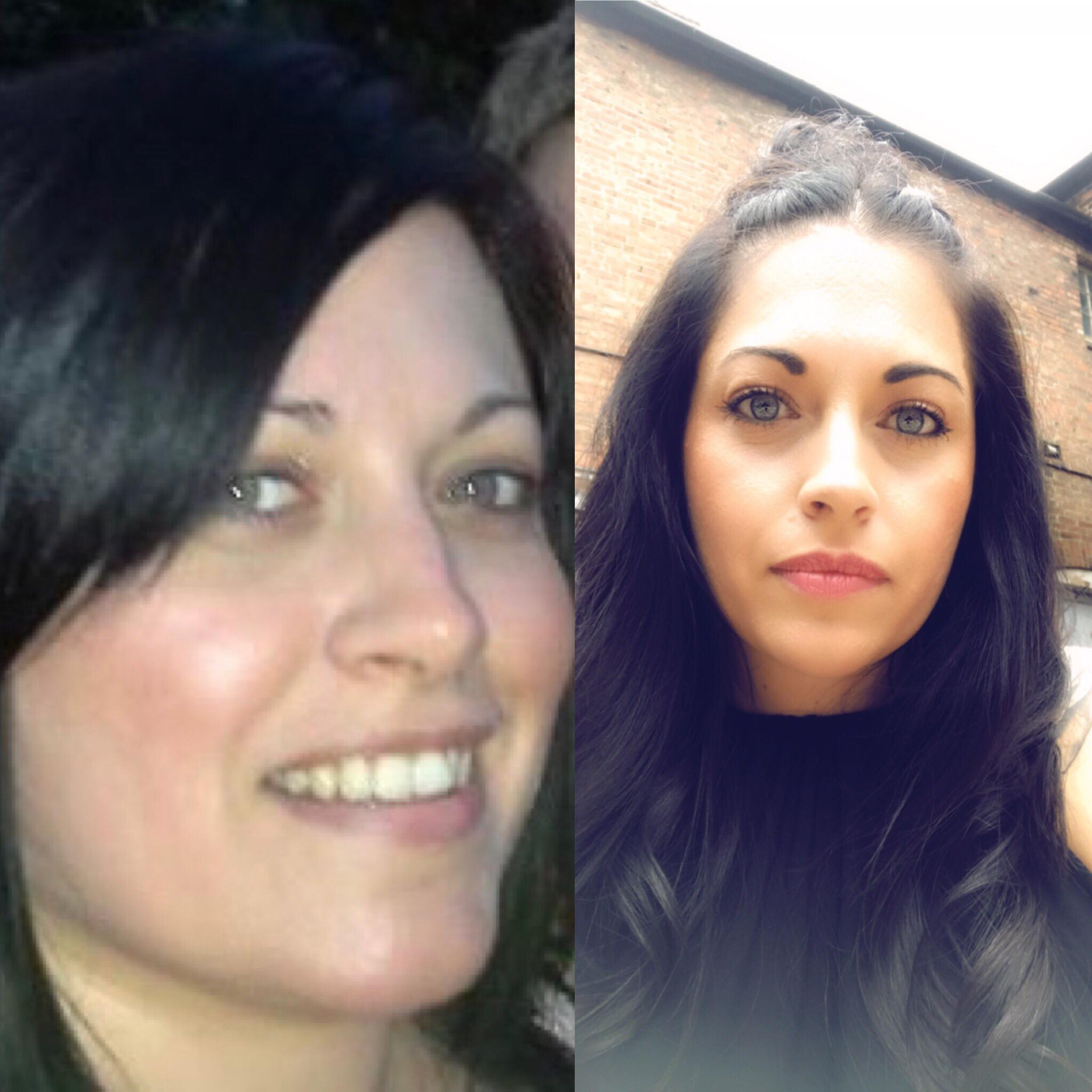 Run they said. It'll be fun they said. 2015 I did my first 5k Park Run with some
Work colleagues & was literally the last person. 50 minutes later I finished. To say I 'enjoyed' it probably would be a lie. However I wanted to run. Not like Forest but just run.
I needed to practise but to do this I needed to lose weight & get fit. My initial motivation was for our wedding in July 2018 but knowing I couldn't run and wanted to, pushed me more.
I found Fit Camp UK via google & took the first step (always the hardest) & made contact. Dave was welcoming & understood what I wanted to achieve. My first class in April 2016 scared me. Anxiety set in & I wanted to turn round & go home. I didn't. I'm glad I didn't. It has literally changed my life.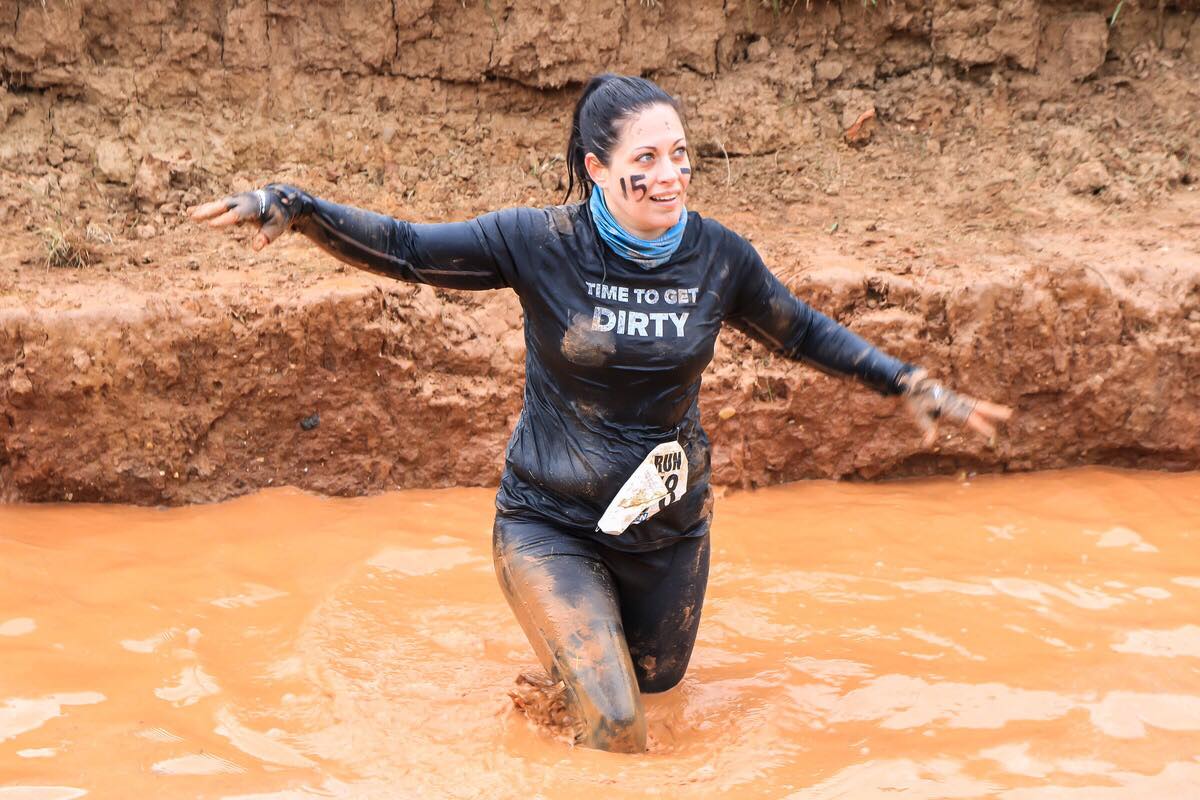 I've lost 2 1/2 stone but more importantly I've gained life long friends & even got a new job in 2018 as a result! Fit Camp UK has great, dedicated instructors, varied classes & lovely members. I've never stuck to anything in my life. Except FCUK. If you want to change or improve your body and life and make new friends, I would recommend joining this boot camp. Make the hardest move & get in touch with Dave Hughes. You won't regret it.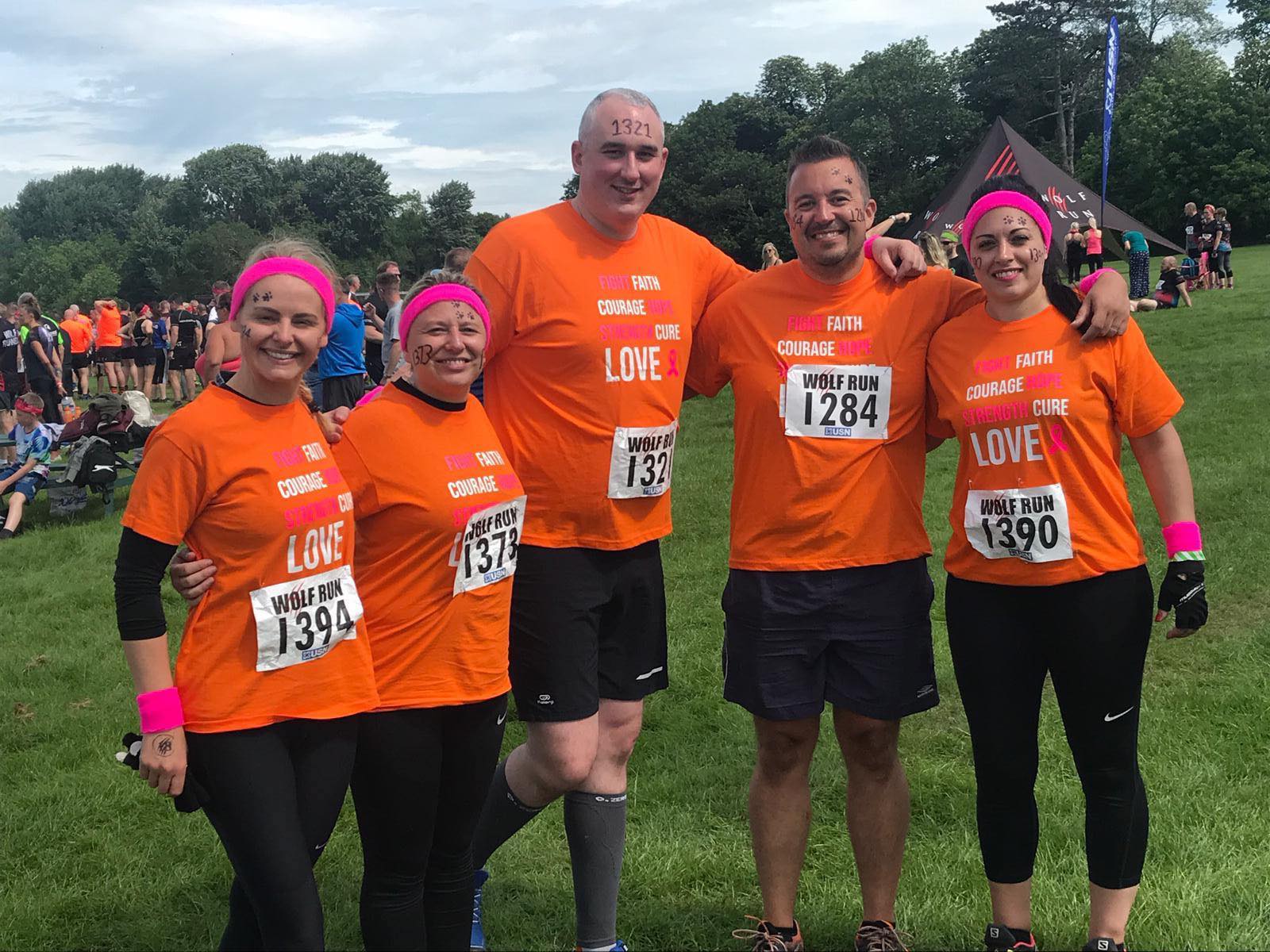 I'm now doing 5k park runs again & did my 25th last week and got a PB of 29:13! My goal was less than 30 by December 2019. Never in a million did I imagine I'd be running 10k let alone 4 in one year! I'm also signed up for Alpha Wolf Run 2019. Woods Obstacles. Lakes. Fields. Myself and 4 other FCUK members have just completed Summer Wolf. Spring, Summer - done. Autumn & Winter to go.
I'm running Alpha Wolf 2019 to raise donations to BreastCancercare.org which in recent months has affected a family very close to my heart. This is for you - you know who you are. If you would like to donate & see photos from our runs please see my Just Giving page www.justgiving.com/fundraising/Tiffany-Thatcher
---
Testimonial James Stevenson - Sutton Fit Camp UK Member
Losing weight is all about numbers – Burning more Calories than you Consume. That is the simple fact but there are other things that people do not always consider when they go on a lifestyle change: stress levels, motivation (or lack of), lifestyle challenges and work commitments all have to be considered.
Dave Hughes (one-on-one sessions) and the Fit Camp instructors help provide support in achieving your goals – not only do they help with the physical aspect of the weight loss through personal training sessions or nightly Fit Camp group sessions, but they also look at the other aspects of your lifestyle that can affect your weight loss goals.
So my goal is to lose 4 stone in 12 months. We have already achieved 2.5 stone weight loss within the first 3 months – another 1.5 stone to go.
I cannot recommend Dave Hughes and the Fit Camp organisation highly enough as they are there for me.
One-on-One Physical Training sessions are a great way to stay focused on getting those pounds off. However, one of the new gadgets on the market which Fit Camp champions is the "My Zone" belt. These belts are connected through your iPhone or Android device allowing all of your physical activity to be monitored by David Hughes. He sets goals for you and other Fit Camp members to achieve over the months – so we are one team – all motivating each other / liking each other's activity. These belts also monitor the sessions done at home. My goal, for example is to row 5K on the Concept II rowing machine or run 2.5 miles every day. You have to really want to make the lifestyle changes and have some self motivation to achieve your goal. I also have to say that the Apple iWatch has also been a great purchase as it monitors my general movement throughout the course of the day; using the Strava app to map your walks is another gadget in your armoury of tech to help you achieve your goals.
Fit Camp group sessions are an excellent way to meet similar-minded people for circuit training sessions– it is hard work sometimes but working as a group helps.
One-on-One Monitoring sessions gave me weekly / bi weekly goals for weight loss as Dave takes body measurements e.g. weight / tummy size / collar size / fitness level etc – as sometimes it is not always about weight loss but more about muscle gain.
Mental Support – anyone can lose weight but once part of the goal is achieved it is easy to be distracted and slowly the pounds start to gain again. This is where, as part of the one-on-one programme tailored to myself, Dave Hughes monitors meal diaries / exercise and also gives me some very harsh words when goals are not being achieved – giving me that mental boost every so often.
Goals – Setting goals is so important. – From the beginning, we set a number of goals: Spring Wolf Run, Lichfield to Tamworth 10 Mile run, Sutton Park 10K run, Summer Wolf Run and that is just to June. These are very important as it gives you focus and also you do the event as a team
---
Zoe Wilkinson
I joined Fit Camp UK in April 2018. I hated exercise. For the Easter break we went to Brixham on a family holiday and we discovered a little beach. To get there involved walking down a steep hill then some even steeper steps. Getting down wasn't a problem but getting up the hill I dreaded; with lots of stopping, panting and encouraging words from the kids I made it! I hated being that way, unfit and overweight. The gym made me anxious and I knew I'd soon get bored of it.
This was when I found Fit Camp UK. From my first call with Dave I felt welcome. He offered me his superb introductory offer of 10 sessions for £10 which is a bargain
The hardest part is going to that first session, but everybody is so welcoming, encouraging and supportive of each other. My confidence and my fitness has grown. I'm only 8 Weeks in; I'm a stone lighter and 2 inches smaller around my waist. Fit Camp has become a part of my weekly routine, each session is different. The instructors are all fantastic; they really encourage you to keep going, without doing it in a drill Sargent way! I would recommend Fit Camp to anybody, it's fun (never thought I'd say that about exercise), you meet new people and at the same time you make noticeable improvements to your health and well-being!
---
Sam Cole
When I turned 40, I didn't think I was big. But looking back, I was. A few months later after talking with a friend and saying how I needed to get back into exercise, she suggested I join Fit Camp UK. I took the first step in March 2017 and joined the team. The trainers were motivational and understood that I had not exercised for some time. As the months went on, and the trainers got to know me, they started to push me and ask me to push myself. Each session I went to, I tried to do more than the last one to push more.
12 months on I am 1 stone 2lb lighter and have lost 96 cm's from around my body. I have made some great new friends and look forward to each Fit Camp session. I still push myself each time I go and the trainers know to push me whilst still being motivational. The social aspect of joining has helped encourage me to exercise more and to achieve more. Thanks Fit Camp UK for making me enjoy exercise again.
Dave and Chris are great and do push us further each time. Thanks for helping get me back on track. Someone I knew once said that if you hadn't lost the weight you want to by the time you are forty, then don't bother.
Turning 40 has done the opposite to me. It has made me more motivational to do things I want to do and that includes losing weight and inches to make myself feel better.
Many thanks to Fit Camp UK and the team of Personal Trainers
---
Dawn Heath
Hi my name is Dawn,
I joined Fit Camp UK after joining the local gym and I was not getting any results.
I found I was not using my gym membership and there was no motivation for me to go
So I decided to try Fit Camp UK!!
The first time I went was so nerve racking, me an unfit middle-aged woman joining a Fit Camp / Boot Camp.
As soon as I turned up I was made welcome by everyone, Dave and Chris are so supportive as are the members. I have made lifelong friends and I'm fitter than I've ever been, so much so I ran the Cathedral to Castle 10 miles an amazing achievement for me.
This was a run from Lichfield to Tamworth and I was so happy to have completed the 10 miles.
My body shape has changed and it has boosted my confidence. So if you're looking to get fit come along and have a trial you will be glad you did.
Dave & Chris are amazing and they cater for all fitness levels – come give it a go!!
---
Julie Coggins
My testimony!
If your wanting to get fit, please try outdoor training with the best training in Tamworth and Sutton Coldfield is Fit Camp UK!
This may sound dramatic but I really couldn't imagine having this group of people in my life, from the amazing instructors to my fellow members!
You will never be bored as every single session is different, from boxing, to circuits, to running and much more!
The support for each other is fantastic as we all want to see each other succeed!
I have been attending Fit Camp UK for 4 years and my fitness levels are great now, and alongside our training sessions we do daily/monthly challenges that we report to each other daily on a facebook page!
We also take part in mud runs, park runs, the last run I did was in April and it 10 mile run from Lichfield to Tamworth known as the Catherdral to Castle run – it was amazing
The best bit we are very sociable and have had some fantastic nights out!
Thanks to F.C. and a local slimming group I'm only 1 off my 2 stone award and have lost 22 inches and am now back in my 8-10 clothes!
The health benefits are great, less headaches, more energy, sleep well, great for your mind, and the buzz you get after a session (although don't always think that at the time)
Thanks Dave and Chris for making each session great and for meeting a lovely bunch of friends!
Julie (fit in my forty's) ❤❤
---
Rheo Parnell
I had won won the title of Miss Coventry and Warwickshire at the end of March 2016, and so was in the final of Miss England. I knew that to do well I would need some serious help, which arrived in the form of Dave Hughes from Fit Camp UK.
In addition to the beauty parades traditionally associated with the competition, there are so many other rounds, all of which carry points towards the final placings.
In particular, the Beach Beauty Bikini, and the Sports Fitness rounds were a concern with my level of fitness at that time as I was relatively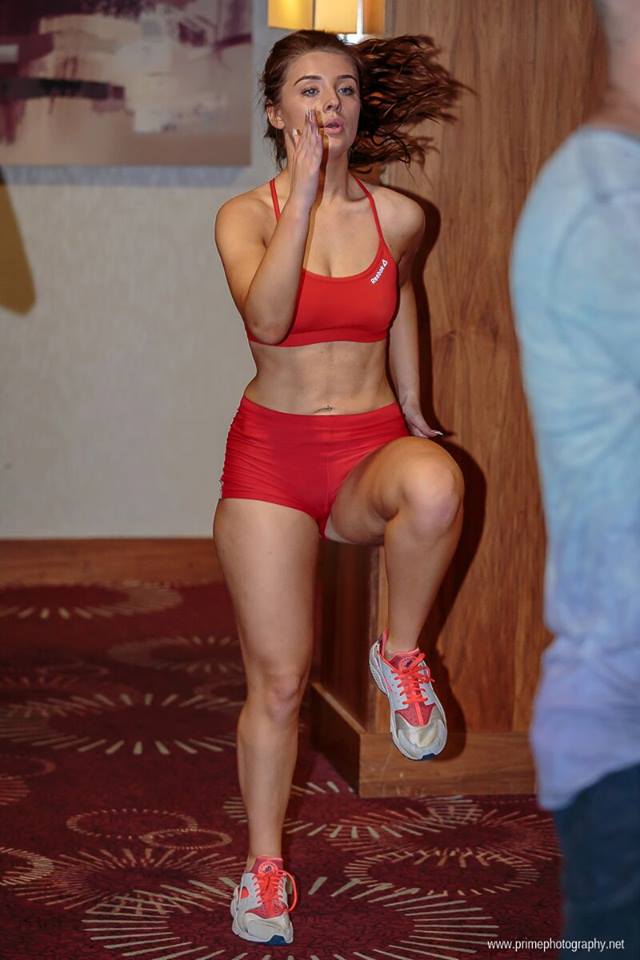 slim in appearance, but terribly unfit and had no muscle definition / tone. I started a personal training program with Dave at the end of April 2016 and also attended 2 Fit Camp UK sessions each week.
I found it hard work to start with as the only thing I had run in the last few years was a bath! However, it was fun and different every time I trained. I also followed a healthy eating program that Dave recommended, and so with Dave's enthusiastic support and guidance, I soon began to see results. I am delighted to say that after just 11 weeks training with Fit Camp UK, I was placed 6th overall in Miss England out of 22,000 applicants, and more importantly I was in top 10 of the Beach Beauty round.
I would recommend this program to anyone wanting to make a lifestyle change as it is simple, effective and fun!
In the 11 weeks that I trained, I lost 15 pounds, decreased 11% of my body fat and lost 10cms off my waist.
Thank you Dave, and the rest of the Fit Camp team!
---
Philippa Hartley
About 6 years ago I weighed 13 stone 8lbs, and after 4 years of hard work I managed to lose 4 stone. However I couldn't maintain the weight loss and soon put back on over a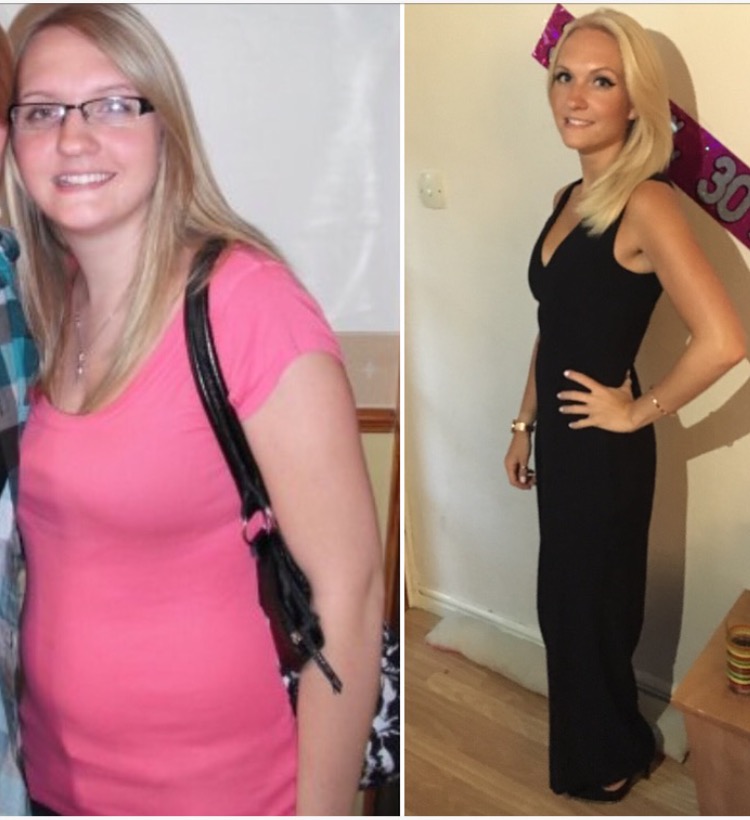 stone which took me to just under 11 stone. I knew I wasn't healthy and although I was running, it wasn't enough for me. This is where I decided I needed to get back on track. After looking for an exercise camp, I found Fit Camp UK. I joined on my own which was something I never thought I would do as my confidence was pretty low. I went, and nearly 2 years later I haven't looked back. With the help of the Fit Camp UK Instructors I was able to lose just under 2 stone and lost over 12inches over my body and I can't thank them enough.
The instructors at Fit Camp UK are so encouraging. They push you a little bit more each time, and make sure you are working hard whilst having fun. They really do care about your progress, and they make you feel like there is nothing you can't do, they want you to improve and achieve your best. I always look forward to the sessions and I try and go 3 times a week. There is so much variety with each session. It is hard work but I have so much fun when I'm there. With Fit Camp UK, not only has my health improved, but my confidence has grown so much which has helped me in all aspects of my life. I have met some incredible people and made some amazing friends.
My life has totally changed since joining and I'm so honoured to be part of the Fit Camp UK family.
---
Adam Gretton
Around 18 months ago, I weighed in at 19 stone 2 pound. At this point, I thought enough was enough and so began dieting. I bought a treadmill and exercise bike, managed to shed 2 stone but then hit a brick wall, and couldn't lose anymore. The treadmill started to get dusty, and a few pounds began creeping back on. I was then introduced to the world of Fit Camp UK, and in just short of 4 months, I managed to get my diet back on track and get my weight down to 15 stone 2 pound. Each session is different which helps to keep it interesting. Using tyres, kettlebells and doing pad work, either boxing or kicking.
The instructors and other members help to motivate and push you to work even harder. You also get encouraged to take part in some great runs and I completed the winter wolf run with some fellow fit campers last month which is a 10k obstacle course and it was fantastic. I doubt that I could have even made it past the starting line before Fit Camp.
Since joining, Fit Camp has not only rejuvenated my diet and fitness, but has also given me many new friends, and a new attitude towards exercise, as it is no longer boring and tedious.
---
Elaine Forth
I have been into various kinds of fitness for more than 20 years, but was getting bored with the same gym class routines and didn't feel I was challenging myself. I joined Fit Camp UK over 2 years ago and am addicted!
Every single session is different and I love being outside in the fresh air whatever the weather. The instructors are motivational and know exactly how hard you can be pushed. I have never been fitter. All of the members are a great people, and there is a great sense of belonging to something special where you can have fun as well as getting fit.
I would recommend it to anyone who wants to start getting fit or is already there and wants to take it to another level.
---
Julie Deaves
With Fit Camp UK, I lost 9lb in 10 weeks and noticed a massive difference in my stamina. I can't believe the difference in my fitness in such a small amount of time, thanks to you guys at fit camp and their 30 day eating plan I can be confident in my clothes again!
---
Louise Wilkinson
My best friend Debra Lewins and I have tried many faddy diets and exercise classes including boogy bounce, salsa, zumba and training for many Moonwalks for charities but the weight always piled back on and more.
In March 2012, I joined the Fit Camp in Tamworth. Fit Camp, for me, isn't JUST about losing weight; it's about my whole shape changing. It's about growing confidence and growing strengths and not just physical. It's about turning up and not knowing whether it's circuits with tyres and sledgehammers or bodyweight work . It's about knowing whoever I'm partnered with or training next too I'm encouraged to do more, to go faster or at times to take it easy. EVERY class is different. What gym can give you that?
Fit Camp has also given me a great bunch of friends; they are all amazing people, tall, short, male, female, young and old. The social side to Fit Camp is a bonus, you're not going to get that at any other exercise class.
---
Maggie Abbott
In the picture on the left I was weighing 12.5st size 16 and miserable. On the right is the healthier fitter happier me, after I made a change and went to Fit Camp UK.
I tried aerobics, bums and tums and zumba but none of them brought me back more than twice as they didn't interest me enough to stay. I started Fit Camp UK in Jan 2013 with friends and I love it! I haven't looked since the 1st session, we have an amazing instructor, Simon, who I'm so grateful for. He took me (with a lot of Ass kicking and shouting at, which was needed) to a size 8/10 in a few months and gave me a complete life change for the better. Even on days where I struggled he was still there, pushing me and encouraging me back on form. We have a fantastic group all look after and support each other. I have made some great friends as encouraging some of my own friends to join too. In November last year, I did the 10k obstacle, Wolf Run, and also won the Most Motivational Member Award which I was really proud of and made it all worth while!
I wouldn't recommend anything but Fit Camp UK.
---
Michelle Elliot
In 2005, aged 20, I started to think about my fitness. I started kick boxing, but struggled to attend sessions due to university and work commitments. I tried going to the gym, different fitness classes, dancing, and fitness DVDs, but I didn't enjoy any of these. I started to gain more weight and feel unhappy with the way I looked. I really struggled to get motivated to do any form of exercise and the weight piled on.
I was introduced to Fit Camp UK in July 2013, by a friend, and have never looked back. After doing 2 of the Groupon sessions I knew I was going to sign up as a member. I have never enjoyed an exercise so much. The instructors and other members are really friendly and motivating. I always look forward to the sessions, and although at times it can feel tough the results are great. Each session is different, you get to meet new friends and have fun whilst exercising.
I love Fit Camp UK, and although I have only been a member for about 4 months, I feel a lot better in myself and for the first time I enjoy and feel committed to an exercise. Since becoming a member I have lost one and half stone.
---
Neil Goode
I joined Fit Camp Uk back in April 2013. I started with a taster session and have never looked back. On my first session another member told me "stick with it and this will be the best thing you will ever do for your fitness" and they couldn't have been more right! I have gone from doing 1 session a week to 4 sessions a week at two different locations (Tamworth & Sutton). I have lost just over 2 1/2 stone and my fitness has gone through the roof.
Getting fit and loosing weight are certainly a great thing that Fit Camp UK delivers however, I have also made loads of new friends and can certainly say the people and instructors make Fit Camp UK what it is.
Delivering results and a great time working out is something that no gym membership has ever delivered for me personally. I'll pass on the advice that I got on my first session "come down and give it a go, stick with it and it will be the best thing you've ever done for yourself!"
---
Rachel Crump
I've been a member of Fit Camp UK for a couple of months, and am reaping the rewards already. I've lost a stone in weight, and 15″ off my body, including 4″ off my stomach… Off the scales, I feel fitter and stronger than I ever have done!
What is brilliant about FitCamp is the level of support you get, both from instructors and from fellow Fit-Campers! There really is a team atmosphere and everyone looks out for and encourages each other. Dave and Ollie have given me diet and nutrition advice, as well as making sure each workout is different and challenging- you are never going to be bored with them around!
I'd definitely recommend Fit Camp UK to anyone looking to get fitter, leaner and stronger in a fun way.